In our previous post we explained how search engines operate, and how to search engine optimize your site on-page. Now it is time to take a look at the second cornerstone of SEO success: Off-site SEO.
Your beautifully optimized site will only get you so far. The next step in the process is generating exposure on the internet. Off-site SEO is all about internet presence. You want people talking about your site and providing back-links, or inbound links, to your site in as many reputable places as possible. This can take a lot of work, especially for a business just starting out, but there are many ways to acquire visibility and links, such as through social media sites, review sites, and with an active internet presence.
Here's a great infographic for reference of On-site and Off-site SEO factors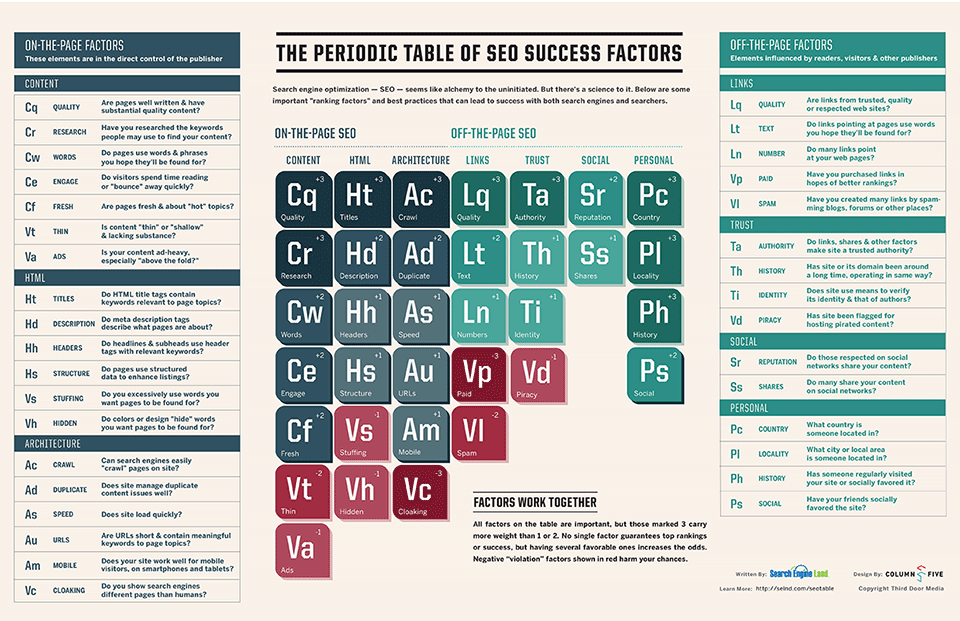 Image courtesy of Search Engine Land.
Social Media
Whether you enjoy spending time on Facebook, Twitter, LinkedIn, Pinterest etc., there is no denying the ease and accessibility these sites provide for potentially free marketing. In order to make social media work for your business, you need to have active accounts and link to them with share buttons from your site. Allowing a user to 'share,' 'tweet,' or 'pin' something from your site automatically creates an inbound link back to you within their post.
Make regular posts to these sites. The more people who 'like' or 'follow' your business the fresher you will be in their minds as your posts, tweets, or pins appear in their feed on a regular basis. Encourage your customers to post to Facebook or Tweet about their experience with your business and include a link to your site.
Remember that being antisocial on the internet is like being antisocial in high school. If you're not out there making friends, then no one will remember to invite you to their parties. In order for your business to have optimal internet presence, you want to be the most popular kid at Social Media High.
Review Sites
There are many review sites, but the most popular are Yelp, Angie's List, Yahoo Local, and City Search. Just as with social media, you want to encourage customers who had a positive experience to give your business a good review and when possible link to your site in their comments.
As a business owner, you should keep up with your own reviews, and take the time to diplomatically respond to negative reviews. It is best if you can be specific to the customer's experience and mention any changes made as a result. If not, keep it simple by thanking them for their business and their feedback.
We as consumers expect good customer service, and so rarely take the time to comment on it. Therefore, encouragement for those good reviews will be necessary, and showing diplomacy in response to negative feedback will help build trust in your company's integrity.
Active Internet Presence
Social media and review sites are not the only ways to promote an active internet presence. It is difficult to create a presence out of thin air on these sites if no one is liking your page or writing reviews. So, how can you start to get your site out there without the help from outsiders? It's easy: be present on the internet yourself.
Keep up with the news in your industry. Read and comment on blogs relevant to your own business, and if allowed, leave a link back to your site in the comment. Post blogs to your own page and then link to them on your company's social media pages.
Apply for accreditation with the Better Business Bureau and become a member of your local Chamber of Commerce. These will cost your business some money in yearly fees, but they provide a link to your business from their pages, and these are two very reputable organizations. Google trusts well reputed organizations as much as consumers. If these two trustworthy sites recommend your business and your site, then Google will trust you too.
If your business is not achieving the desired ranks in the organic search results, even after putting in all the work for On-site and Off-site SEO, then it may be time to invest some money. SEM, or search engine marketing, is a paid option for making sure that your business shows above or next to the organic search results. SEM is the third cornerstone of overall SEO, and we will examine it in our next post, "SEO Explained: Part 3."