This is a continuation of our Advertising Bits and Pieces series. This edition is all about Content Marketing.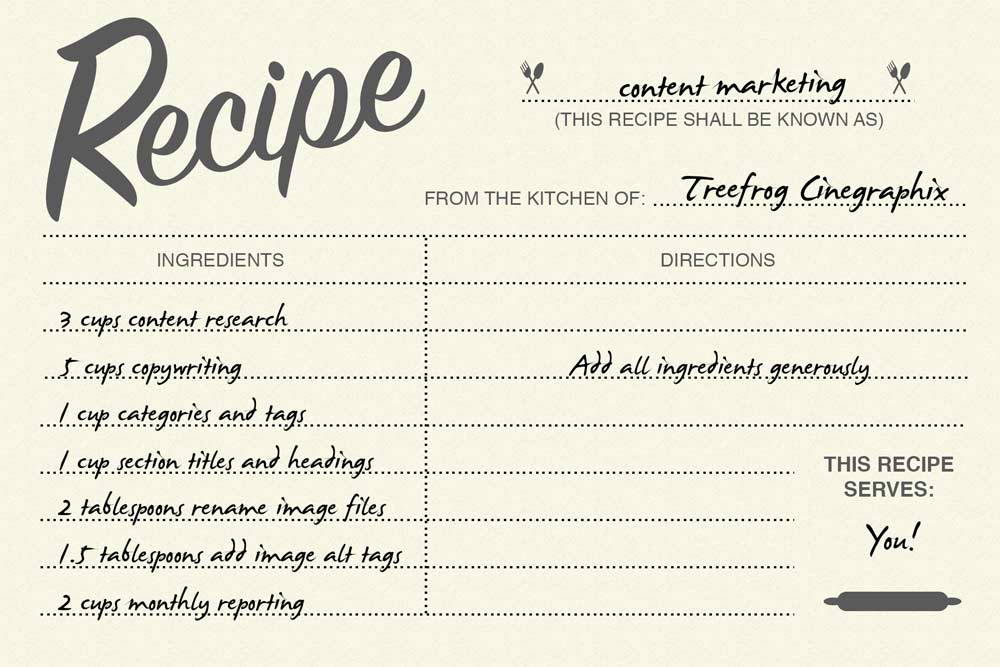 I am not about that measuring life. I hate getting out the measuring cups, pouring exactly a cup of this, a teaspoon of that. Even though I don't enjoy measuring, I know that each ingredient is an important part of the final product, and the amounts and techniques can be left up to the cook's creativity.
Content Marketing
Content marketing is a holistic approach that will grow domain authority along with growing an audience for your brand. This is a great long-term strategy because it pushes past the idea that links will always be a factor in growing search engine page ranking. It's amazing to think how important content marketing is for your overall strategy. Just check out these facts if you aren't convinced.
The Facts
These statistics demonstrate the effectiveness of content marketing. Now that we understand the usefulness of this tool, we can look into what makes up content marketing.
Content Marketing Ingredients
This strategy requires research. Look at your business, and figure out what kind of content will bring in the right audience for your business. If you sell paper airplanes, you will want to write about the perfect types of paper or how to construct different kinds of planes or how to properly throw a paper airplane. These are what people interested in paper airplanes would be searching for online.
After research, then comes the content creation. Writing industry relevant blogs will increase the opportunity to build up the keywords that people will be searching, which is great for SEO. Also, the more content available gives other websites more opportunities to link back to your content. This will build up those back links needed for a higher page authority. Building the perfectly structured post to include all of the pertinent information takes time. This is the meat of what people are searching for. This content is what will bring your website more relevancy, and help raise the page rank.
Once you have your content created and posted, the tags need to be added. These are like the sweet aroma of a freshly baked cake. The tags draw in people by giving them a way to find your delicious new content. Ensure the headers are using the proper keywords, and that all of the images have alt tags that will be visible to search engines, so that people will be able to find your freshly created content.
Free Smells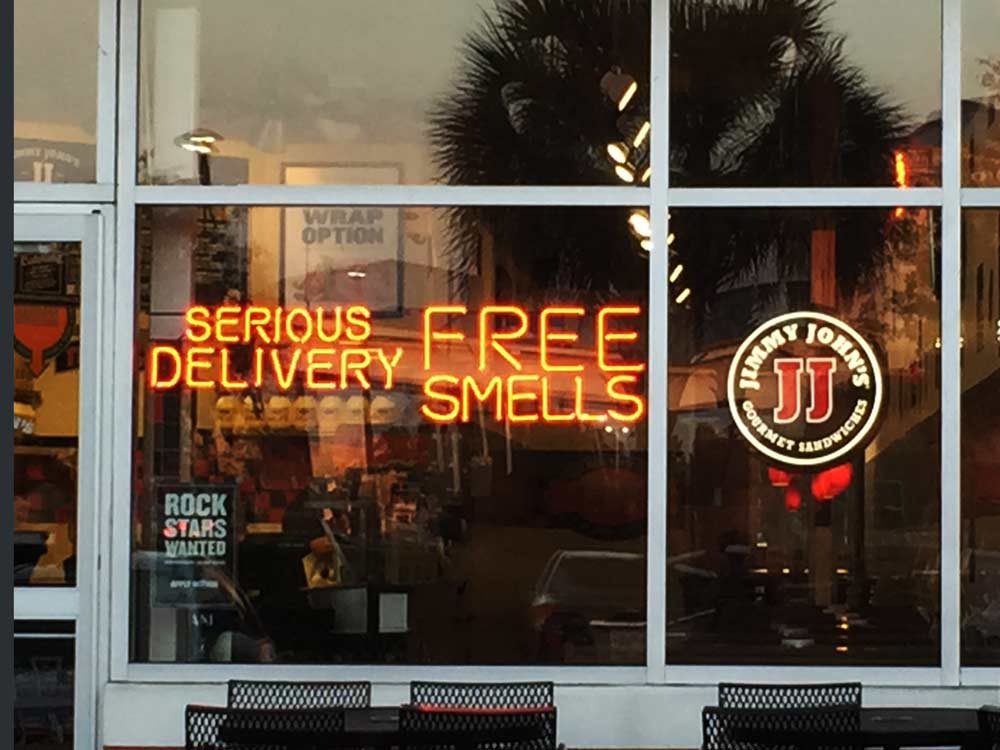 If you've ever been to a Jimmy John's you may have noticed they have a sign that says, "Free Smells." This seems like a silly notion that people would go and just smell their sandwiches, but the idea relates to our content marketing. Our content is like a free smell of our business for anyone to try. Content marketing is an invitation for anyone to come to your website and try whatever is available. Now, it may not be on the first blog post that someone converts by either buying your products or signing up for your newsletter, but it is very likely that over time they will convert. MOZ said it takes, on average, a person 7 blog views before they convert and sign up for their free trial (source). Content marketing is a proven method that works, but it takes consistent content creation.
Keep it Fresh
A cake's aroma will begin to fade over time, and so does content. Content marketing is not a one and done. There needs to be a thought out plan to continually create fresh content. The length of time between each new post can vary with each business, but there needs to be a continual creation and posting of fresh content.
Cooking isn't always an exact science, which is why I like to infuse my creativity through measurements of some ingredients. Content marketing isn't an exact science either, each business will need their own unique recipe for their own specific needs. The frequency and amount of ingredients is going to be different for each company on what will be most effective and worthwhile.
If your business is struggling to keep up with your content marketing, please contact us today. We are here to help with all of your marketing needs, including content marketing. This is an integral part to any marketing plan. Building relevance and authority, as well as building an audience, are crucial in drawing in quality traffic.
Marketing Ingredients
Here are a few of our blog posts featuring marketing ingredients we commonly use: